120 South Plaza Trail Virginia Beach (Just 5 miles from oceanfront) • 757.965.8484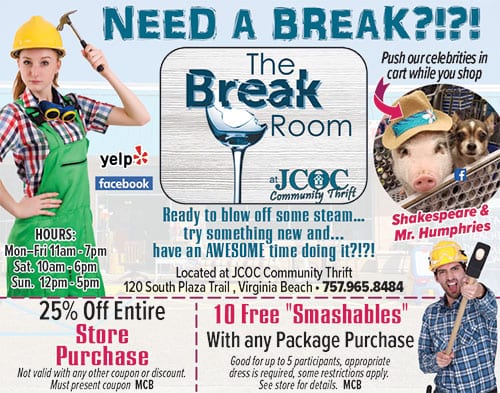 Browse through some of this and some of that at the JCOC Community Thrift Store in Virginia Beach. Considered "Virginia Beach's most unique thrift store," find best bargains on everything you need – clothing for all members of the family, furniture and decor for every room in the house, kitchen ware and small appliances, toys and books, electronics and more. Hard-to-find vinyl records are also available for those looking for the tunes of yester-year. The best thing about it all … something's on sale every day!JCOC is neat and well organized to create the perfect treasure-hunting shopping experience. With a huge inventory and thousands of items arriving daily, shoppers find great savings on top-quality items. Vacationers especially like the affordable rare finds at JCOC.
"You could spend hours in this place looking at everything … furniture, vinyl records, toys, clothes, antiques … so much more … owners are extremely friendly … definitely be going here more often." – Facebook review
Just as fashions change so does JCOC's consignment inventory. From designer pieces to trendy styles in all sizes, you can find your own savvy outfit with matching shoes. Whether you are buying or selling, JCOC would love to help you find what you're looking to make your very own.
In addition to great shopping, JCOC is a team player in community fundraising events. "I contacted JCOC Community Thrift and spoke with the owners of this wonderful store. I reached out requesting any help or donations for a friend in need. They were so gracious and jumped at the opportunity to help …" – Facebook review
JCOC is located at 120 S Plaza Trail in Virginia Beach. Why not take some time to see what all the rave about? It's open from 11 a.m. to 7 p.m., Mondays through Fridays and Sundays from noon to 5 p.m.