Featuring the Battleship Wisconsin
One Waterside Drive Norfolk, VA • 757.664.1000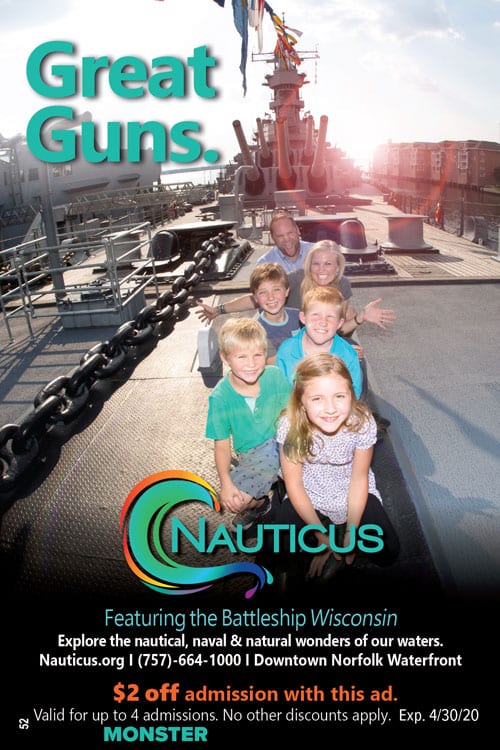 Explore the nautical, naval and natural wonders of the sea through a Nauticus experience. Nauticus inspires and educates with engaging and interactive experiences that celebrate today's maritime world and its connections.
A contemporary museum, Nauticus uses the natural setting of Norfolk's harbor to showcase global maritime commerce and the world's largest Navy featuring the Battleship Wisconsin.
The Battleship Wisconsin, berthed at Nauticus, is one of the largest and last battleships ever built by the U.S. Navy. As a guest, you're invited to explore its deck through a self-guided tour or, with an additional charge, be guided through a Topside Tour that will take you back in time to experience this majestic ship that earned five battle stars during WW II. Or, take the guided engine room tour that takes visitors seven "decks" down in the depths of the Battleship Wisconsin, where they'll learn exactly what was required to power this massive City at Sea.
In addition to the majesty of The Wisconsin, The Hampton Roads Naval Museum is owned and operated by the United States Navy and located on level two of Nauticus. The museum houses a rich collection of authentic uniforms, weaponry, underwater artifacts, detailed ship models and artwork. For more information about the museum, please visit www.hrnm.navy.mil.
Learn from more than 10 exhibits that showcase everything from the anatomy of a battleship to maritime commerce to weather-related phenomena – feel hurricane force winds in the Hurricane Simulator. And, kids of all ages will love to admire and touch exotic sea creatures of the simulated tidepool in the Horseshow Crab Cove exhibit where they will also meet many of the Chesapeake Bay inhabitants in addition to the Horseshoe crab.
The newest exhibit brings brownbanded bamboo sharks, whitespotted bamboo sharks and epaulette sharks to the forefront. While the Living Seashore exhibit affords visitors the opportunity to learn about the plants and animals that inhabit the Chesapeake Bay. And, the exhibit teaches about the importance of keeping the Bay healthy and how to help.
Groups are encouraged to get in on all the fun. Whether you are planning a school field trip, corporate outing, reunion, or scout event, Nauticus is where great memories are made. Start your group's visit and make reservations by calling (757) 664-1034 or (800) 664-1080 ext. 41034.
Enjoy a larger than life experience! The 350-seat Nauticus Theater is the place to watch sea-inspired hi-definition and 3D films on a 50' x 24' screen in awesome fashion.
For up-and-coming seafarers, Sail Nauticus is a Norfolk-based, nonprofit sailing school and community sailing center unlike anything else in the Hampton Roads region. Its mission is to inspire, instruct, and impact Hampton Roads kids through the use of sailing and maritime sciences.
Nauticus is located in the heart of downtown Norfolk, Virginia at One Waterside Drive. For more detailed information on all that Nauticus has to offer, visit https://nauticus.org/.