1577 Laskin Road, Virginia Beach, VA • 757.428.5897
Across from Hilltop Shopping Center
1.8 miles from Oceanfront, use 31st Street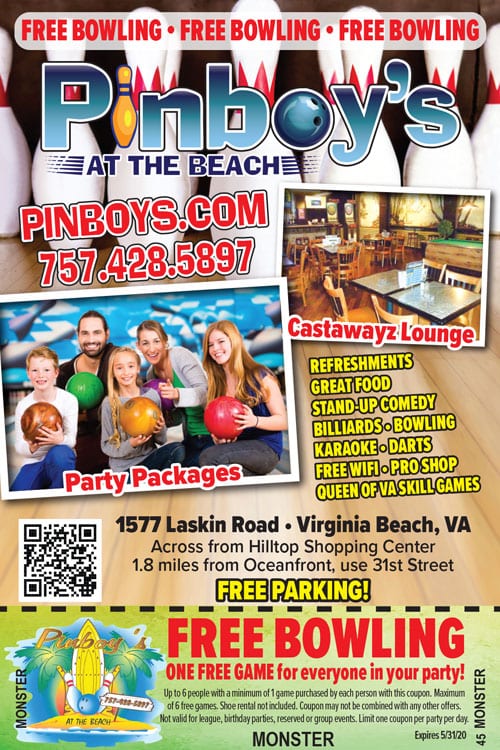 Set 'em up at Pinboy's at the Beach, a fun-times inspired bowling wonderland offering billiards, stand-up comedy, darts and karaoke in addition to 32 first-class bowling lanes. And, the quaint Castawayz Lounge adds a full-service bar and entertainment to all the fun.
With the ability to accommodate nearly 400 guests at a time, Pinboy's is the area's go-to destination for birthdays, holidays, corporate outings, and parties that the whole family will enjoy.
Nobody throws a better party than Pinboy's at the Beach. Host an event that's fun, memorable, and always exciting. Bring your party to Pinboy's and experience a bowling celebration filled with all-star amusements, good-tasting food, and professional lane-side service. Pinboy's celebrations are active occasions where your kids, friends, or coworkers can bowl, dine, play, and party without ever missing a moment of the fun. Let the experienced event professionals design a custom party that will leave your guests excited, entertained, and maybe just a little bit jealous… Party or special packages come with sessions of unlimited bowling (shoes included), customized food packages, party décor and lots more. Choose between the classic, super or premium packages.
Think about transforming your next office get-together or team building event into something more, with a Pinboy's corporate event that could feature inventive menus, signature cocktails, and all-star stand-up comedy or karaoke entertainment. The experienced party professionals will be with you every step of the way to ensure your event is a striking success.
Trade your bowling ball in for a brush and join in on Paint Nite at Pinboy's at the Beach. It's the most fun you have with a brush in one hand, and a drink in the other.
For casual play or for competition, when it comes to league and club bowling, Pinboy's has everybody else beat. Log onto Pinboy's website for a full slate of tournaments and events or sign up for the E-Club newsletter to keep up on what's going on.
Novice bowlers can pick up a few pointers in Pinboy's "Learn to Bowl" classes. Complete the 10-week course and get a custom-drilled bowling ball! Get a matching glove or jacket at Striker's Bowling Pro Shop conveniently located next to Pinboy's.
Located across from Hilltop Shopping Center at 1577 Laskin Road, Pinboy's is open Mondays at 9 a.m.; Tuesdays through Thursdays at 10 a.m.; Fridays from 9 a.m. to 1 a.m.; Saturdays from 10 a.m. to 1 a.m.; and Sundays at 10 a.m.
Don't forget to ask about FREE bowling specials. Yes, FREE bowling! Up to six people in your bowling party may be eligible for a free game. Get the details on this and other Pinboy's at the Beach specials.