2200 Parks Ave. • Virginia Beach, VA • 757.425.0000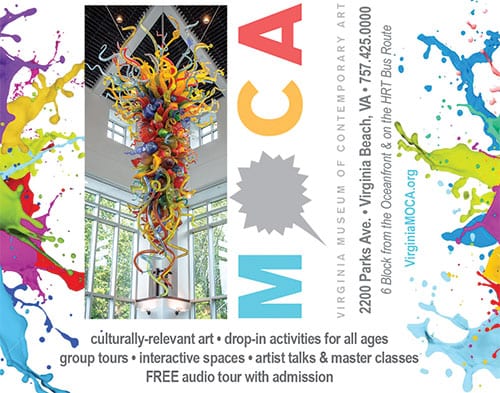 Aimed at fostering awareness, exploration, and understanding of the significant art of our time, the Virginia Museum of Contemporary Art, a non-profit institution, stimulates critical thinking and dialogue throughout the Hampton Roads community through excellence and diversity in its changing exhibitions and educational programming,
Regularly changing exhibitions feature painting, sculpture, photography, glass, video and other visual media from internationally acclaimed artists as well as artists of national and regional renown. By balancing its four primary activities—gallery exhibitions, studio art classes, educational outreach programs and outdoor art shows—MOCA seeks to involve a diverse regional public in the rich and active language of contemporary visual art. By operating at a national standard, MOCA received accreditation from the American Alliance of Museums in 2010.
The Virginia Museum of Contemporary Art is one the region's best examples of a private-public partnership. The building is owned and maintained by The City of Virginia Beach and MOCA operates within it as a private, non-profit. MOCA's trustees and staff host multiple fundraisers every year to support the mission and vision of the museum.
Within MOCA's exhibition spaces, you'll find interactive areas where guests may engage in hands-on activity. The Exhibitions and Education Department supports and practices an inclusive dialogue with all participants — the artist, the visitor, and the museum.
The Studio School's courses take place in the award-winning facility devoted specifically to hands-on art-making purposes. Adults, teens, and children have the opportunity to explore drawing, painting, ceramics, digital photography, mixed media, fine crafts, and more. All courses are taught by professional regional artists and educators and take place throughout the day into the evening hours, as well as at the weekend. Saturday courses are also offered for children and teens as well as Summer Art Camp. Online registration is available for Studio School classes and camps.
All programs, activities, and resources are designed to encourage discussion, transforming galleries into laboratories of ideas. School programs, teacher programs, family programs, a scout program and programs just for teens are offered. Annually, about 30,000 children are reached through MOCA's educational programs.
Whether bringing a student group, listening to an audio tour, or joining in an informal gallery conversation, the range of offerings allow visitors to choose and customize their museum experience.
Located at 2200 Parks Avenue in Virginia Beach, get a free audio tour with admission. Visit VirginiaMOCA.org for more details of rotating exhibits, program schedules and upcoming fundraising events.