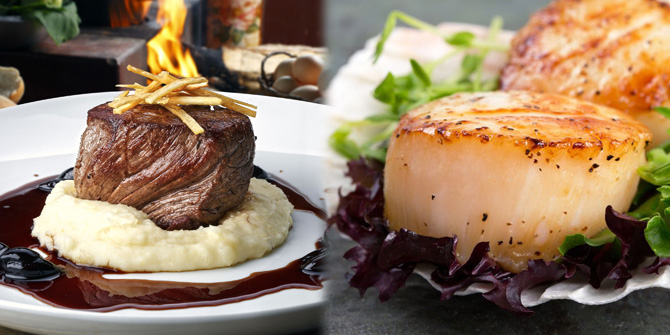 Hey! Look at us … located conveniently on Atlantic Avenue in Virginia Beach, George's Seafood Buffet is the best seafood buffet value in Virginia Beach … and, we don't mind bragging about it! George understands that vacationing can be expensive on families so kids aged 10 and under can enjoy a seafood buffet for only $6.95!It all started back in 1989 when George and Louie started what became one of Virginia Beach's favorite seafood buffets offering extensive lunch and dinner menus. And, the tradition still holds with a dinner menu that includes broiled, fried and steamed seafood, steaks, Italian dishes, sandwiches, salads and much more! Of course, we have Alaskan Snow Crab Legs available by the pound.
The buffet leaves no taste unturned. Appetizers galore offering shrimp, mussels, calamari and, even wings! George's Broiled seafood platters features lobster, shrimp, flounder and crab legs. Also, steamed pots of shrimp and crab legs tempt seafood lovers. Southern favorites like barbeque ribs and chicken add a down-home element while the Italian corner serves up manicotti, lasagna, spaghetti and chicken parmigiana.
If for some reason, you have room for dessert, take delight in a slice of Chocolate Heaven, a yummy rich chocolate cake; a smooth and creamy slice of cheesecake; or the decadent Mille-Feuillet, layers of puff pastry filled with Grand Marnier cream filling.
Don't forget you can order a cool, tasty adult beverage from the full bar serving frozen margaritas, daiquiris and specialty drinks.
So for one of those afternoons and nights that you feel like filling up on tasty seafood in Virginia Beach then head on over to 26th St and have dinner at George's Seafood Restaurant – Seafood Buffet. Open daily from 11 a.m. to 10 p.m.; Seafood Buffet starts at 11:30 a.m. All major credit cards accepted.
George's Seafood Restaurant is located at:
26th Street & VA Avenue • 757.422.4098