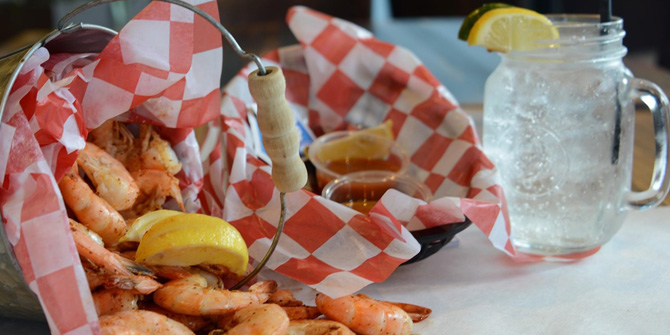 Our No. 1 goal is to make you happy. And, we have the formula to do just that … a mouth-watering menu, perfect oceanfront dining and impeccable service. So, whether you're a guest of our amazing city or an area local, Jumpin' Shrimp is the laid-back dining experience that will make you … well, happy (and satisfied.)
Located inside the popular Four Points by Sheraton on 12th street, Atlantic Avenue, Jumpin' Shrimp offers a room with a view with its oceanfront seating. Dine while watching the tides roll and maybe even catch a twilight of stars or the moon reflecting on the ocean. For those who want a more up-close-and-personal view of the shoreline, outside dining on the patio is the perfect perch. The atmosphere is just as you would hope of a beachfront eatery – casual and chilled.
Jumpin' Shrimp not only has succulent seafood but its juicy burgers are talked about, too. The extensive menu touches on "whatever your heart desires" – steak, burgers, pasta, seafood and, of course shrimp. Jumpin' Shrimp Trip is a perennial favorite with a combination of bacon-wrapped barbeque shrimp, lemon grass scampi and crispy fried shrimp. The Ultimate Seafood Platter is true to its name offering jumbo shrimp, lemon grass scampi, flounder, Alaskan Snow Crab and a cold-water lobster tail. Or, sop up some savory shrimp and grits.
There will be a whole lot of crackin' going on when you dive into a bucket of crab legs for the whole family! They toss them right onto the table so everyone can jump in (pardon the pun) and enjoy.
As one happy patron stated, Jumpin' Shrimp is "The perfect place to take your family! Amazing seafood, fun for the kids and a great atmosphere. We'll be back!"
Open every day from 7 a.m. to 10 p.m., you can start your day with Sal's $6.99 Breakfast Special. Come back later and enjoy $5 appetizers 'til 5 p.m.; and sip on Happy Hour drink specials from 11 a.m. to 9 p.m.
Jumpin' Shrimp is located at:
1211 Atlantic Ave. Boardwalk Side • Virginia Beach