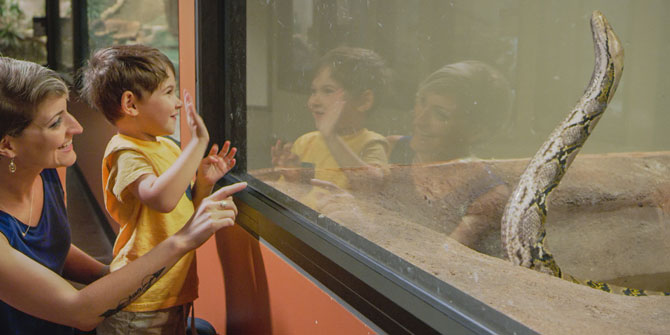 AbsolZOOtley incredible! Experience adventures of a lifetime at the Virginia Zoo – exhibits, gardens, events and educational programs all centered around Mother Nature's offerings. Oh, and let's not forget up-close-and-personal visits with tigers, kangaroos, red pandas, giraffes and monkeys. Exploring Virginia Zoo is an adventure of fun and education for the whole family.
Hop aboard the Zoo Train as it winds through the scenic zoo grounds. A scaled model of a C.P. Huntington steam engine, the train has four coaches that can take up to 80 passengers on almost a mile-long informative journey. Train tickets are a mere $2 per person but kids under 2 years old can ride for free.
Spend the day exploring the animal kingdom and the plants that surround it. More than 500 furry, feathered or scaly animals find that Virginia Zoo is a place to call home. Including, exotic creatures from Africa, Asia, Australia and North America which are spectacular creatures of wonder. Visit the Africa-Okavango Delta exhibit to see rhinos, lions, cheetahs, and giraffes.
The Asia – Trail of the Tiger exhibit has cascading waterfalls, vibrant foliage and a vast array of animals from Asian countries. The red panda, siamangs, otters and tiger cubs welcome visitors to their home away from home.
The biggest variety of animals at Virginia Zoo can be found on the Zoo Farm – Old McDonald would be jealous. Farm animals, as well as some exotic surprises, present an opportunity for visitor interaction. Not just for kids, visitors of all ages can pet sheep, pigs or cows; watch a peafowl spread its colorful feathers; or check out what's going on with the handsome alpaca.
Though most visitors have the animals top of mind when a zoo, it's the beautiful foliage that captures their first thoughts at Virginia Zoo. The horticulture at the zoo sets the stage to create naturalistic habitats for exotic and native animals. Plant-themed gardens range from fragrant organic roses to lush tropical plants to far-flung African vegetables.
Opening in February 2018, the World of Reptiles will bring slithering, creeping, crawling creatures face to face with curious adventurers. This state-of-the-art renovation of the Virginia Zoo's reptile building is full of "Defining Moment" opportunities for children and adults alike. Everyone is invited to support, follow and share this project that showcases reptile giants and allows you to watch hatching and newborn reptiles being nurtured and raised. Immerse yourself in a floor-to-ceiling marsh habitat of the fairly-odd Orinoco crocodile.
A jammed-packed zoo calendar list customer appreciation events like Senior Wednesdays to celebrate seniors and the contributions they make to the community. Seniors are invited to bring along their grandkids, kids and friends for a day at the zoo.
Zoovies are shown on the big screen under the stars. Spread a blanket and enjoy the family-friendly outdoor movie. No need pack a meal, refreshments and snacks will be available for purchase. Admission for this big-screened feature is $5.
Virginia Zoo is an educational environment. From zoo exhibits to academic presentations, its mission is to deliver opportunities to learn more about the world and its inhabitants. Sign up for school programs, zoo camp, field trips or library programs.
Become a Zoo Member and get all sorts of privileges like free admission, discounts and invitations to special events. Best of all, Zoo Member membership would help support the care of its animals and grounds.
The Virginia Zoo is located at:
3500 Granby Street, Norfolk, VA • 757.441.2374