Best Pizza in Virginia Beach
Whats on the Menu? Pizza. See our List of favorite pizza in the area, below. Situated on the southeastern coast of Virginia, VA Beach offers amazing access to the Atlantic Ocean. Considered a resort city with countless hotels, and restaurants. So when the tummy rumbles, the best way to curb the hunger is to visit one of these delicious pizza parlors.
1.Dough Boy's California Pizza
Well worth the price of admission, Dough Boy's California Pizza is renowned for its academy-award winning pizza performance. The inviting atmosphere is reminiscent of carefree, fun-loving '60s beach movies with murals of iconic surf scenes all around the dining room. Or, pull up a seat at the spacious outside open-air bar where you can take full advantage of the beachfront scenery.At Dough Boy's California Pizza, the star of its movie is its pizza. A star-studded menu of real good food is sure to receive rave reviews. Before the plot to your dining experience unfolds, choose which crust you'd like to cast. Whether you go with Dough Boy's Original Pizza made with hand-crafted, thinner-style crust or the Pan-Style Pizza made by allowing the dough to rise naturally to produce a light, golden crust, your pizza production would be Oscar-worthy.
Learn more about DOUGH BOY'S CALIFORNIA PIZZA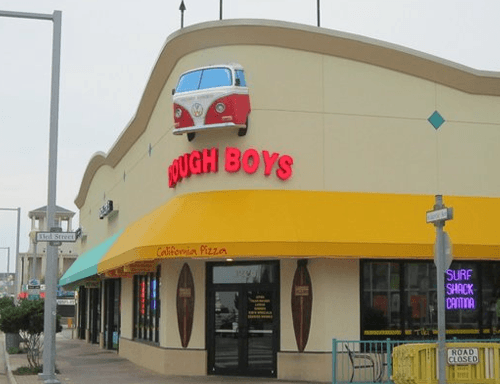 2.Albie's Pizza and Bar
Better than it has to be … Albie's Pizza and Bar!Albie's can just serve pizza but, instead, it serves great tasting New York-styled pies and much more! Those who know Albie's Pizza and Bar have named it "the best pizza on the oceanfront." This "vibrant" pizzeria duo serves "out-of-this-world" specialty pies with perfectly baked crusts and inventive toppings such as the Albie's Supreme, Hawaiian Pizza, or Greek. A much-requested Spinach White Pizza consists of a combination of spinach, mushrooms and ricotta cheese stuffed with fresh garlic and topped with extra mozzarella cheese – surprisingly, there is NO pizza sauce on this pizza.
Learn more about ALBIE'S PIZZA AND BAR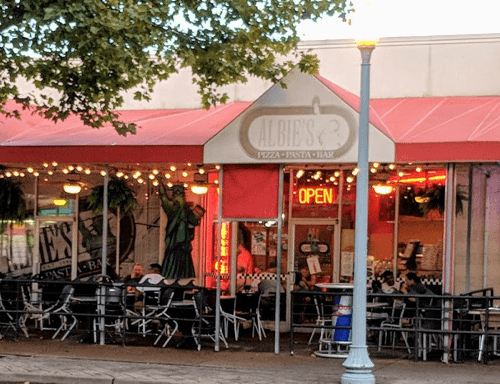 3.Beach Bella Pizza II
Anyway you like it – dine-in, carry out, or delivery – Beach Bella Pizza II covers all the bases when serving delicious pizza, subs, Stromboli, salads and more!Casual and unassuming, Beach Bella's location at 616 Virginia Beach Blvd. Suite 110, is popular with many locals who've fallen in love at first bite with the parlor that crafts New York-styled pizzas, hefty sub sandwiches and creamy pasta dishes.
"Our waitress was attentive and accommodating to our pizza request. We ordered the deluxe pizza minus the mushrooms and extra cheese. The pizza came out hot and pipping with plenty of cheese still. I will say they are not stingy on toppings." Yelp review
Though you're welcomed to come in and enjoy your meal, Beach Bella Pizza II prides itself on prompt, accurate and professional delivery of the best pizza in town. Any menu item can be delivered but an abundant number of calls for the two-topping 18-inch pizza with garlic knots keeps deliverers on the road. Other popular orders include two 20-inch subs with two 20-ounce drinks; tasty buffalo chicken wings with sauce; and crispy chicken tenders with tangy barbeque sauce.
Learn more about BEACH BELLA PIZZA II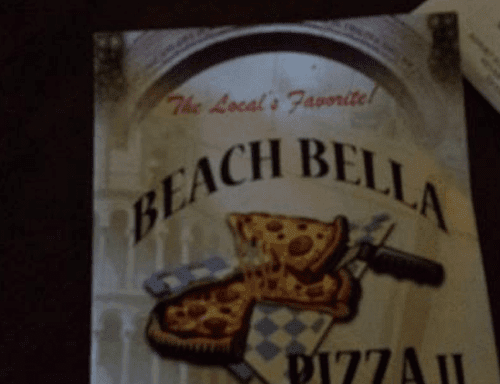 4.Corner Pizza
A click of a button will get you hot delicious pizza delivered at your doorstep in minutes. Corner Pizza, family owned and operated, is the place to make it all happen. Currently, located at 1091 Norfolk Ave., Corner Pizza welcomes your order for your favorite pizza, pasta dish, salad, wings, and other Italian-inspired dishes. All ingredients are fresh and Corner Pizza's health consciousness menu offers no pork items.Offering a full menu of pizza parlor staples like Stromboli, calzones, subs and, of course, pizza, Corner Pizza pads its chances of pleasing patrons adding burgers, hot dogs and Philly steak subs to its menu. Specialty items include filling Mediterranean gyros, delectable veal parmigiana, and a crisp chef salad with ample portions of ham, turkey and provolone cheese. Take note that deluxe Stromboli is packed with pepperoni, Italian sausage, green peppers, onions and mushrooms – a serving of marinara sauce on the side completes the dish that's fit for a king.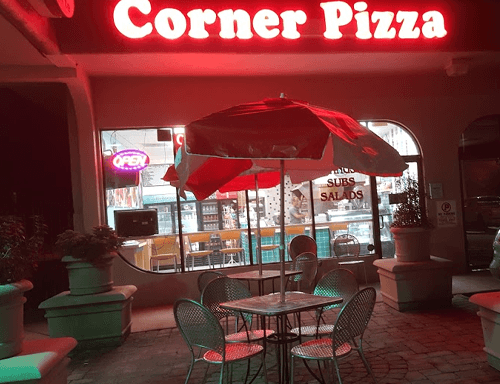 5.North End Pizza
No way, no how can the authentic taste of North End Pizza's New York-styled pizza be beaten. North End Pizza is one of the oldest local's favorite pizza parlor in Virginia Beach. Sticking with a tried-and-true menu of fresh and delicious recipes, North End Pizza's extensive menu boasts pizza, gyros, subs, wings, pasta, and salad. Beginning with stapled toppings like pepperoni, sausage, ham, mushrooms, bacon, onions, green peppers, olives, hot peppers, anchovies, spinach, broccoli, fresh tomatoes, and extra cheese, create your own pizza masterpiece or select from the long list of specialty pizzas. Locals proudly recommend the Greek-Style Pizza with Gyro meat, fresh tomatoes, green peppers, onions, olives, mozzarella cheese and feta cheese or the White Pizza with olive oil, Italian spices, garlic, parmesan, ricotta, white cheddar and mozzarella Cheese.
Learn more about NORTH END PIZZA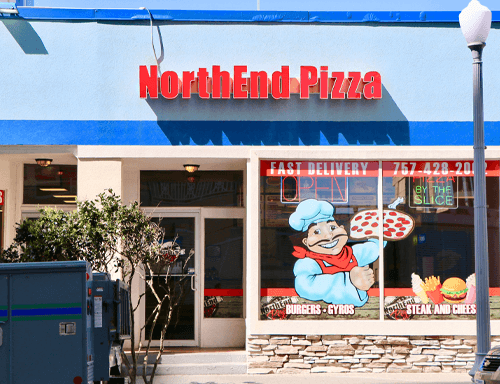 6.South Beach Pizza
From one end of Virginia Beach to the other, South Beach Pizza delivers fresh hot delicious pizza. As a cornerstone in the Virginia Beach community, South Beach Pizza recognized for its outstanding pizza cuisine, excellent service and friendly staff. Renowned for its modern interpretation of classic dishes, South Beach Pizza's dresses its Margherita Pizza in fresh basil, tomatoes and spinach. The Chicken Florentine Pizza has garlic, olive oil, chicken, spinach, ricotta cheese and mushrooms. But, a generous wedge (18") of a plain ol' slice of pepperoni is just as tasty.
Learn more about SOUTH BEACH PIZZA