Best Places For Asian and Thai Cuisine Virginia Beach
When you're heading to the Virginia Beach area, be sure to check out some of the delectable and authentic Asian and Thai dining options available to you. There are quite a few to choose from, and each one offers up a unique and delicious take on authentic Asian and Thai food. Whether you're looking for first-class sushi, an authentic noodle dish, or aren't up for anything in particular but want some great Asian and Thai cuisine, this guide is for you. Discover how these restaurants are serving up innovative spins on traditional Asian and Thai food in Virginia Beach.
1.Golden City Chinese Restaurant
Easy as click, click, click … order authentic Chinese dishes from Golden City Chinese Restaurant with just the click of a mouse. Or, dine in to enjoy your delicious meal close to the oceanfront. Serving lunch and dinner, Golden City Chinese Restaurant offers a vast menu of fine Chinese food, such as Sesame Chicken, Pepper Steak and Moo Shu Pork at the best prices in town. Twenty-two lunch specials are available from 11 a.m. to 3 p.m. daily and include perennial favorites like chicken chow mein, pork lo mein and egg foo young. Each of the specials is served with fried or white rice.
Learn more about Golden City Chinese Restaurant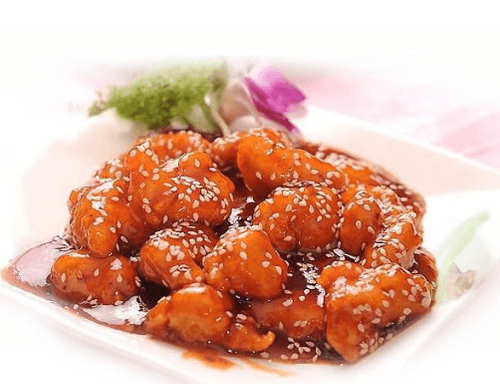 2.Domoishi
In the seaside cities of Virginia Beach and Sufffolk, Virginia, you'll find a variety of addictive Asian fare favorities at Domoishi. Whether you crave for fresh ramen sourced from Japan, Poke from the Hawaii isles, Taiwanese bubble tea or delectable Korean-styled wings, Domoishi is a must-visit. Not only does Domoishi start with ingredients that come from the birth of regions of the world, it is steeped in traditions that have not changed for hundreds of years. Compliment any of Domoishi's savory dishes with a variety of teas. The finely milled tea powder is the staple ingredient from a Chinese traditional beverage originating from the 10th century. Bursting with distinct flavor, visual appeal, soothing aroma and health benefits, choose from House Milk Tea, a premium house blend black tea with milk to Peach Berry Tea, a sparkling peach fruit tea infused with sweetness. "Tea"-totallers will enjoy other favorites such as Classic Thai, Signature Amber or Lychee Rose. Don't forget you can add boba, jellies or popping boba as toppings to any tea selection.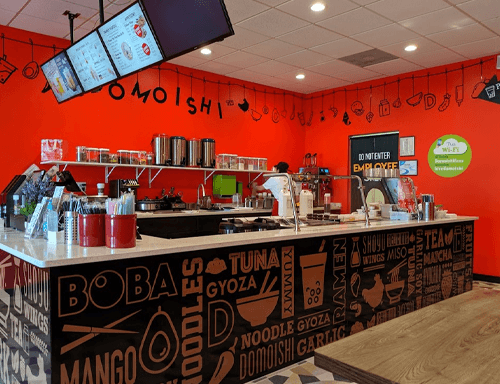 3.Happy Buffet
All-you-can-eat sushi and hibachi … Happy Buffet! No gimmicks … all you can eat buffet featuring more than 150 delicious items. Here's how it works: When you're ready, place your order for a main entrée off the main menu, when you're close to finishing your first order, your server will then place the second order of choice and make it fresh. You can keep this up until you are satisfied. Appetizers, soups, salads and ice cream are all included in the deal, too! Serving lunch and dinner, Happy Buffet is a full-service restaurant with a complete wait staff. The attentiveness of the staff will astound you with what seems like a second sense as they present the opportunity to "re-order" just in time. Order as much as you care to eat.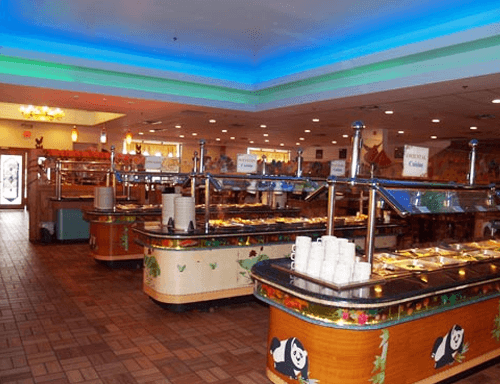 4.Yukai Byuffe
Truly amazing, Viginia Beach's largest sushi and seafood buffet! Yukai Byuffe adds the wow-factor to its all-you-care-to-eat buffet of sushi, hibachi, Pho, traditional dishes, salads and desserts – covering more than 10,000 feet of serving area. Where to begin will propose a welcomed dilemma. Built on a well-earned reputation with the local community along with vacationers from all over the world, Yukai Byuffe prides itself on providing guests with nothing but the highest quality food and excellent customer service. The stylishly modern dining room offers plenty of space and can easily accommodate large parties in its private dining room.