Best Bowling Alleys in Virginia Beach
A favorite recreational activity and target sport, the main goal in bowling is to knock over pins. Typically this is done by rolling a 16-lb bowling ball down a lane. Traditional indoor lanes are made of either wood surfaces or synthetic flooring material. Lubricating oils are generally coated onto the floor to give varying ball path trajectories for an even more challenging gameplay.
While outdoor bowling or lawn bowling is quite popular in many Commonwealth territories, indoor bowling still remains an easy favorite. It is, after all, difficult to pass up an opportunity to go bowling rain or shine, night or day. Over the last several years, surveys have shown that bowling is played by over 100 million people worldwide. This number continues to rise with the sport's popularity managing to infiltrate arcade and video games as well.
Although there is some argument as to when and where bowling originated from, interest in the game has never waned. Countless people all over the world enjoy this game both as a professional sport or as a fun hobby. There are pro leagues that actively compete and battle it out for the top prizes, and office tournaments with friendly matches that encourage teamwork and camaraderie, and teen nights that blast pop music to a glowing black light vibe. Also, let's not forget those who simply enjoy knocking down some pins while hanging out with friends and family.
This game is so well-loved that even the late President Harry Truman of the United States was gifted a two-lane bowling room in the White House. Since the former president's sad demise, the Truman lanes have stuck around and were later mimicked by another United States President, Richard Nixon—an even more avid bowler. Thanks to the presence of various lanes, the public need not shell out tons of money to have lanes installed in their homes. Bowling alleys are one of the most sought out entertainment hubs, and here are the top 10 bowling alley picks for those who are in Virginia Beach:
1.Pinboy's at the Beach
One of the most popular bowling spots in Virginia Beach, Pinboy's is always filled with both locals and travelers alike. Located on Laskin Road, this family-friendly bowling alley has numerous modern and upgraded lanes for bowling fans to choose from. Visitors can enjoy a nice friendly game of bowling with friends while snacking on some of the alley's popular menu items. There's even a spacious bar to grab a beer and some cocktails from. Tournaments, parties, and events can be booked in this amazing venue. Reserve a lane for you and your date or join a Friday night league with your officemates. They even offer a range of promos and discounts for bowing enthusiasts to enjoy.
Learn more about Pinboy's at the Beach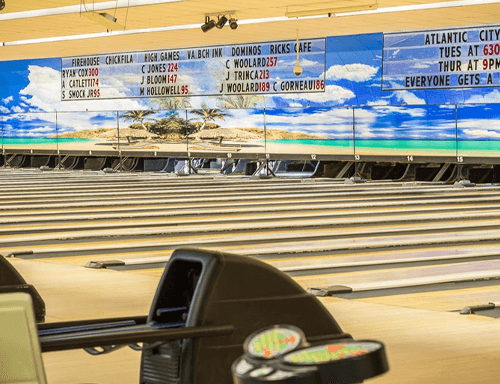 2.AMF Lynnhaven Lanes
Near Dave and Buster's, enjoy food, drinks, and of course bowling at AMF Lynnhaven Lanes. Recognized as one of the largest operators for bowling and entertainment, this bowling company successfully revolutionized bowling with top of the line event focused bowling. Bowlers will enjoy the retro vibe thanks to the amazing interiors and the backlight setup. There are even numerous retro arcade games for interactive gameplay. An impressive menu of food options provides tons of options good for sharing, as well as an array of signature cocktails to suit every palate. Like many alleys, AMF Lynnhaven lets its customers book lanes in advance so that you don't have to wait for one to open up.
Learn more about AMF Lynnhaven Lanes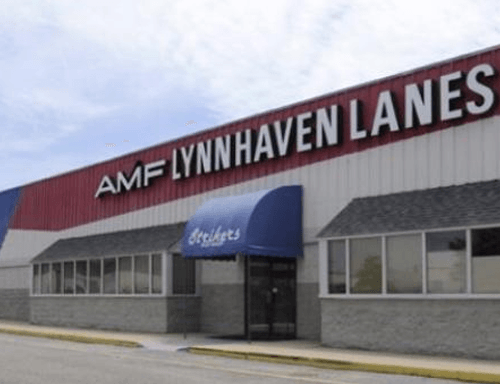 3.Seaside Lanes Bowling Alley
Best known for their high-quality lanes, Seaside Lanes Bowling Alley—although a tad smaller than most alleys in Virginia, is still an easy favorite amongst the locals. Open all week long, this bowling alley boasts of 12 top-of-the-line lanes as well as a private mini bowling area that is perfect for hosting events and parties. Of course, bigger groups need not feel left out. Seaside Lanes does cater to larger gatherings and will happily help you reserve the full-sized lanes for exclusive functions. Weekends bring back a disco vibe with a cosmic themed bowling, and they even a special Pizza Bowl on Wednesdays!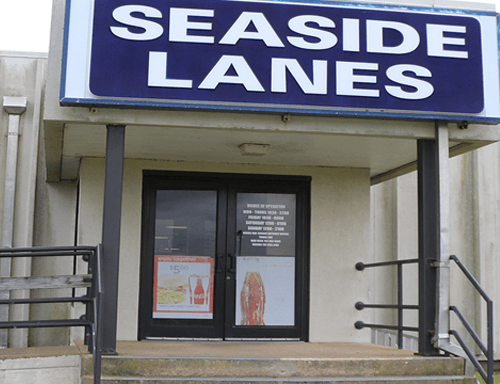 4. JEB Little Creek Gator Bowl
With over 32 bowling lanes, it is easy to see why Gator Bowl is the largest known Navy bowling center in the area. Aside from the lanes, visitors and bowling fans will enjoy a slew of impressive onsite amenities such as bar service, snack bar, pro shop and some pool tables for additional entertainment. There are countless packages and promotions available that are suitable for events, gatherings, parties, and tournaments. Both adults and children will find bowling activities that are well within their bowling skill level. Open from Mondays to Sundays the place is generally packed with people, so it's best to book a lane in advance.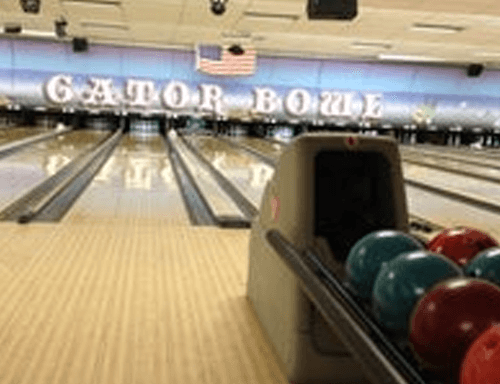 5.Freedom Lanes
This one-stop-shop bowling center is a favorite destination for many avid bowlers of all ages. NAS Oceana Freedom Lanes Bowling Center has a total of 24 lanes which are all professionally maintained. Additionally, no other alley can boast of staff that is as well trained as the ones employed in Freedom Lanes. Enjoy unique bowling experiences during the weekends along with extended operational hours. Similar to many other bowling lanes in Virginia beach, this one is also perfect for bowling parties, events and functions. Large groups can rent the entire facility at very competitive rates. Their snack bar is also fully stocked with food and beverage perfect for munching on while you wait for your turn to knock down pins.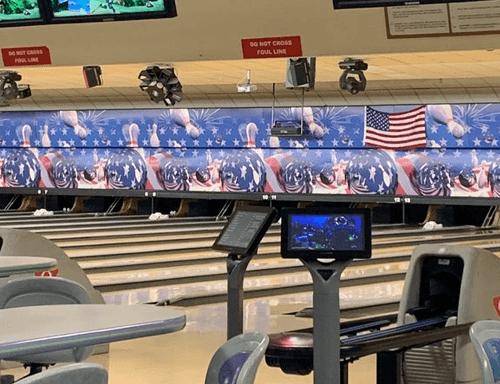 6.Langley Lanes Bowling Center
Boasting 24 bowling lanes, very few centers come as highly recommended for the bowling lessons they offer. This is what sets Langley Lanes Bowling Center apart from the competition. Aside from the bowling lanes, the center also offers pool tables, air hockey, dartboards, and even a good variety of arcade games for all age groups to enjoy. There are daily Bingo games for when you want to switch things up. Cosmic bowling sessions are available on Fridays and Saturdays. There is also a loyalty program perfect for those who regularly enjoy the sport and are looking to score some amazing pro items from the in-house bowling shop.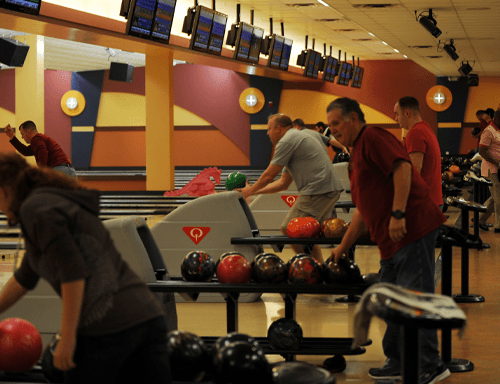 7.AMF Chesapeake Lanes
Belonging to one of the oldest bowling chains, Chesapeake Lanes is one of the biggest alleys in the area. With over 40 lanes on the premises, a pro shop, a sports bar and an arcade, it is impossible for visitors to get bored. Even those who aren't huge fans of bowling will enjoy it and find activities to entertain themselves with. It's well lit and the eye-catching lighting makes everyday feel like Cosmic bowling day. Patrons get to enjoy the services offered by this chain without having to spend an arm and a leg. A diverse offering of fun packages and party plans allows bowlers to find the perfect fit for their bowling needs.
Learn more about AMF Chesapeake Lanes at the Beach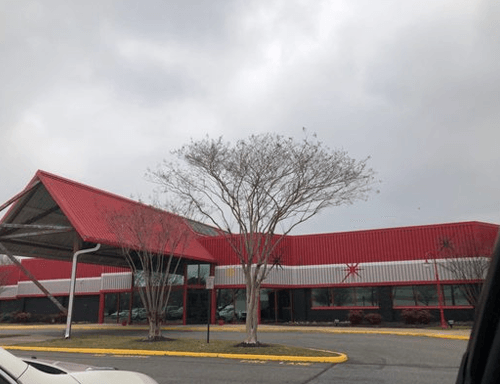 8.Pierside Lanes
No other place can beat Pierside Lanes $1 game promo for Wednesday customers. Bowling fanatics get to enjoy the amazing offers that this alley affords its loyal fanbase. Besides the usual presence of a snack bar and a pro shop, another amenity of this bowling lane is the free internet service they provide. Update your social media pages and let friends see how well you are fairing. Invite friends to come over and join in a couple of sets of bowling, snacks, and some social beverages. Typically open even during holidays, Pierside Lanes has wild discounts and specials that make any private bowling party even better.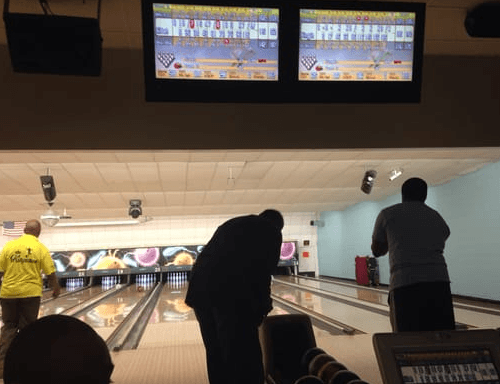 9.Scott Annex Center Strike
A full-service bowling facility that encourages daily bowling, especially for recreational purposes, Scott Annex Center Strike Zone's best-kept secret is its hideaway bar complete with pool tables. The bar even comes with top of the line tv sets for guests to enjoy sporting events on TV. An internet cafe is within reach for visitors who are interested in and are in need of that network connectivity. Host a small pizza party or book a large event complete with the signature snacks offered at the snack bar. Burgers, fries, wings, pizza and so much more can be enjoyed. Serious bowlers will even enjoy sanctioned bowling events on lanes specifically certified for this purpose. Open every day except Mondays, find Center Strike at the Norfolk Naval Shipyard in Virginia.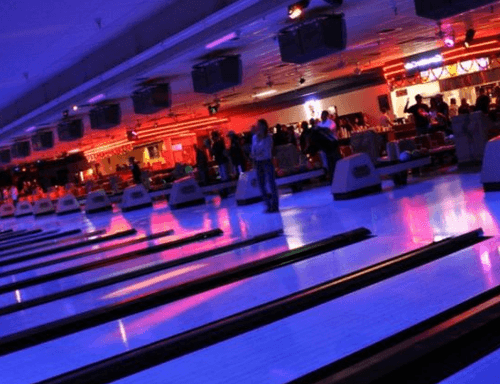 10.Century Lanes
How about some karaoke and bowling? Maybe not at the same time, but Century Lanes offer its patrons with both amenities. Bowling fans will appreciate the well kept retro interiors.  The owners of this quaint little bowling joint continue to have a hands-on approach to business that many patrons enjoy and appreciate. This alley hosts around 10 lanes, possibly the smallest in the whole of Virginia, but nonetheless it is still a popular spot to visit. Open daily, this charming and cozy bowling place caters to a more mature crowd, as well as couples who prefer a more subdued atmosphere. For additional info on their operating hours, bowling promos and snack menu, check them out on their social media channels.
Learn more about Century Lanes at the Beach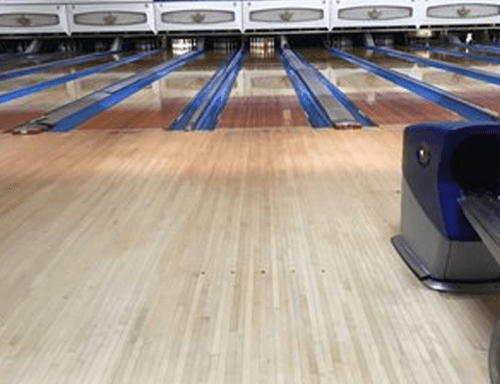 Virginia Beach has a lot to offer. For those with dessert cravings, check out the best ice cream parlors in the area after your game.