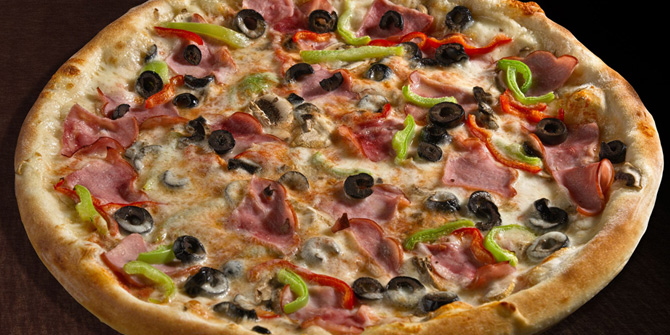 Better than it has to be … Albie's Pizza and Bar!Albie's can just serve pizza but, instead, it serves great tasting New York-styled pies and much more!
Those who know Albie's Pizza and Bar have named it "the best pizza on the oceanfront." This "vibrant" pizzeria duo serves "out-of-this-world" specialty pies with perfectly baked crusts and inventive toppings such as the Albie's Supreme, Hawaiian Pizza, or Greek. A much-requested Spinach White Pizza consists of a combination of spinach, mushrooms and ricotta cheese stuffed with fresh garlic and topped with extra mozzarella cheese – surprisingly, there is NO pizza sauce on this pizza.
Whether you choose a 14-, 16-, or 18-inch pie, the seriously good pizza is the real deal. A league-of-their-own Calzones are skillfully crafted of pizza dough stuffed with a combination of ricotta, mozzarella and Romano cheese seasoned with garlic and a variety of Italian spices served with a side of marinara sauce while the testament-to-goodness Stromboli is filled with Italian sausage, meatball, pepperoni, peppers & onions, all blended with a special red sauce and loads of mozzarella cheese wrapped in freshly made dough and baked until golden brown.
Wings, pasta, subs, wraps and salads compete for attention on Albie's extensive menu. As one satisfied customer says, "this was one of the best restaurants I have ever been to in my life. The food was to die for. They have the "BEST" wings I have ever tried in my life. The wings offer a taste explosion as the tantalizingly hot sauce leaves your taste buds percolating and begging for more …"
Crispy fresh vegetables make up salads that are filling but the Italian Antipasto with its Italian Salami, ham, American cheese, pepperoni, fresh onions, green peppers, tomatoes, black olives, topped with your choice of dressing and mixed veggies is masterful.
Another perennial favorite is the generously portioned Chicken Parmesan – a moist flavorful chicken breast covered in bread crumbs and Italian herbs on a bed of spaghetti noodles topped with homemade marinara sauce and a layer of melted mozzarella cheese. Served with a slice of garlic bread.
Albie's Pizza and Bar knows that great food paired with the right beverage makes for a great dining experience. All the more reason why Albie's Pizza and Bar is well stocked with a variety of wines, beers and specialty cocktails. Signature drinks like the Trash Can – vodka, rum, gin, blue curacao, sprite and a whole can of Red Bull – keep patrons coming back for more.
Scrumptious food and drinks are only rivaled by the courteousness of Albie's professional staff. Dine inside or choose outside dining with an oceanfront view. Inside or outside, you'll get the same great-tasting food served with great customer service. Open Mondays – Thursdays from 11 a.m. to 2 a.m.; Fridays and Saturdays from 11 a.m. to 2:30 a.m. and Sundays from 11 a.m. from 2 a.m. there's always time to enjoy Albie's Pizza and Bar.
Albie's Pizza and Bar are located at:
200 21st Street & Atlantic Avenue • 757.422.0400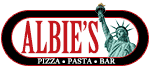 10% OFF
ENTIRE BILL
With this coupon, excluding Memorial Day weekend, 4th of July and Labor Day weekend. Dine-in only. Excludes Alcoholic Beverages and tax. Not to be combined with any other offers. Maximum value $10. Only printed coupons accepted. Expires 5/31/22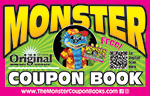 MCB/2021 Online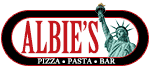 $4.00 OFF
CARRY-OUT PIZZA
With this coupon, excluding Memorial Day weekend, 4th of July and Labor Day weekend. Good for any large NY-style pizza with 2 or more toppings. Toppings Extra. Offer good 11am-5pm daily. Not valid for dine-in or with other specials coupons or discounts. Only printed coupons accepted. Expires 5/31/22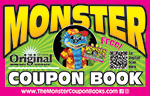 MCB/2021 Online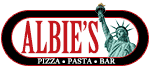 50% OFF
Buy 1 Pizza, Get 2nd Half Off 10pm til midnight
of equal or lesser value dine-in or carryout May 27 – Sept. 2 only, excluding Memorial Day weekend, 4th of July and Labor Day weekend. Offer good for any NY Style Pizza. Not valid with other specials, coupons or discounts. One coupon per party per visit. Expires 5/31/22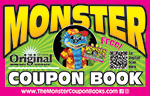 MCB/2021 Online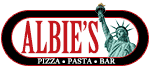 $27.95
FAMILY MEAL DEAL
With this coupon. Large NY-style pizza with up to 4 toppings, Garlic Knots & 4 soft drinks with unlimited refills. Not valid with other offers or delivery. One coupon per party, per visit. Only printed coupons accepted. Expires 5/31/22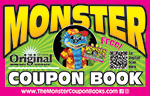 MCB/2021 Online