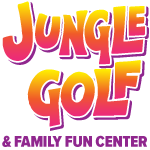 Buy One $20 Arcade Card
Receive $3 in Bonus Play!
Visit inside game kiosk. Free game play put on card when purchased through kiosk.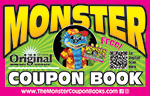 MCB/2023 Online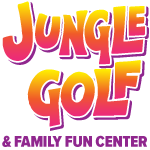 $1.00 OFF
Round of Golf
With this coupon. Valid before 4pm. Good for entire party.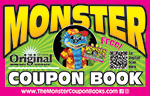 MCB/2023 Online
Jungle Golf is located at
the corner of 22nd Street & Pacific Avenue • 757.425.7240
On site parking at 23rd Street
---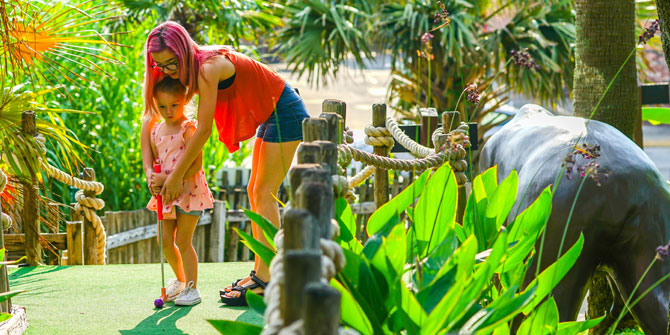 Learn to jungle boogie at Virginia Beach's Jungle Golf course. A Virginia Beach tradition for more than 40 years, Jungle Golf is a mini-golf course offering 18 holes of outdoor family fun all year round.
The lion doesn't sleep in this jungle – play all day or play just a round! Putt over hills, pass water hazards, and maneuver through the depths of a smoldering volcano as you challenge yourself over inventive jungle-themed numbered holes cleverly featuring exotic palms, hibiscus, tropical plants and beautiful rivers of blue water with gold fish.
After a day on the course, continue the fun with a visit to Base Camp, the new family center that features a game room and snack bar. The air-conditioned game room is well equipped with games and amusements. Play skee ball, air hockey and games of chance and capture all the smiles and good times in the photo booth! Ask about the "Play All Day" special.
No need to leave for a bite to eat. Base Camp serves snacks, ice cream and fountain drinks. If you really work up an appetite, grab a hot dog or chicken tender combo. Add chili and cheese sauce, if you'd like. There's also pretzels, popcorn, French fries and nachos. Quench your thirst with a root beer float. A treat yourself to a scoop or two of hand-dipped ice cream.
Parties and groups welcomed. Jungle Golf is the perfect setting for celebrations and events of all types. Birthday packages include a round of golf, customized cake, ice cream and drinks along with balloons, money for Base Camp game room and a buy-one-get-one pass for a future visit. Oh, and a party attendant to help with the festivities.
If you decide to go wild at the beach, Jungle Golf is located at the corner of 22nd St. and Pacific Avenue. Park on-site at the 23rd St. entrance.