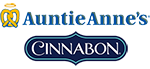 Buy One Get One
BUY 1 CLASSIC PRETZEL, GET 1 FREE
(excludes Pepperoni)
Expiration Date: May 31, 2024 Valid Only at 1802 Atlantic Avenue location.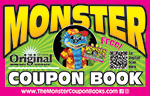 MCB/2023 Online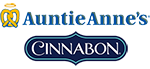 Buy One Get One
BUY 1 CINNABON, GET 1 FREE
Expiration Date: May 31, 2024 Valid Only at 1802 Atlantic Avenue location.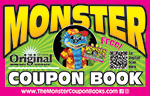 MCB/2023 Online
---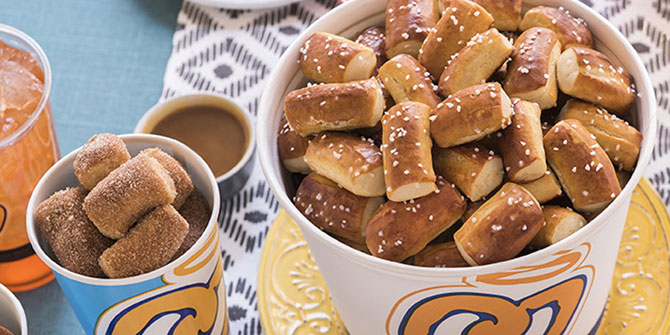 The aroma of fresh baked pretzels beckons one and all to the counters of Auntie Anne's. Baked with just five simple ingredients to golden brown perfection, the tasty prized pretzels come in a flavorful variety. Try the cinnamon sugar pretzel that is hot from the oven and generously sprinkled with fresh cinnamon and sweet sugar. The sweet almond pretzel and raisin pretzel offer sweet-tooth craving satisfaction. Savory sensations such as the sour cream and onion pretzel, the roasted garlic and parmesan pretzel, the pepperoni pretzel and the jalapeno pretzel raise the standard of pretzel snacking.
Started in 1988, "Auntie" Anne Beiler started baking pretzels to help fund her husband's desire to provide free family counseling services for their community. "In, as she calls it, "a twist of fate," Anne found her true calling as an unlikely entrepreneur, taking her business from a single farmer's market stand to the world's largest soft pretzel franchise." One of those franchises is located at 1802 Atlantic Avenue in Virginia Beach.
Just in time for summer, Auntie Anne's is serving cool refreshing drinks like the new Strawberry Lemonade Frost, a sweet and creamy twist to the already-famous frozen lemonade. There's still Auntie Anne's original lemonade, frozen lemonade with mixers, iced tea and, the most perfect complement to any pretzel, Dr. Pepper®.
Share the goodness of Auntie Anne's at your next party. You can turn any occasion into a full-blown bash by letting Auntie Anne's supply the snacks. From party boxes to pretzel buckets, the freshly baked delights are a guaranteed hit.
In what seems to be the perfect pairing, Cinnabon Bakery treats are available at Auntie Anne's, too. The fresh aromatic, oven-hot cinnamon rolls come in as classic rolls, BonBites™, or CinnaPacks™. The ultra-popular Caramel PecanBon® has layers of Cinnabon's legendary Makara® Cinnamon wrapped in warm dough and swirled with smooth caramel frosting. Sprinkled with a splash of pecans.
The Cinnabon Stix®, CinnaSweeties®, and Center of the Roll baked treats offer even more superior flavor and unmistakable aroma that comes from Makara® cinnamon, which "originates in the mountains of West Sumatra, Indonesia." Coupled with the tender dough, and signature frosting, these are your average baked cinnamon treats. Add, a signature blended beverages like the Chillattas® or cold-brewed iced coffees and create a delicious Cinnabon experience.
Auntie Anne's and Cinnabon … freshly baked happiness.