Buy 1 get 1 free
Cup or cone. When you buy a large cone, get a small cone Free
Waffle Cones Extra.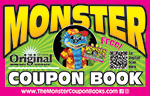 MCB/2023 Online

Buy 1 get 1 – 50% off
SUNDAE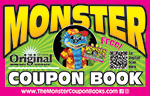 MCB/2023 Online

Buy 1 get 1 – 50% off
SORBET SLUSH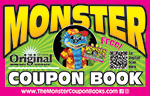 MCB/2023 Online

Buy 1 get 1 – 50% off
MILKSHAKE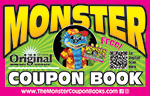 MCB/2023 Online
Ben and Jerry's 4 locations:
33rd Street & Atlantic Avenue • 757.422.0019
26th Street & Atlantic Avenue • 757.333.6775
12th Street & Atlantic Avenue • 757.470.5807
312 Sandbridge Road • 757-301-9388
---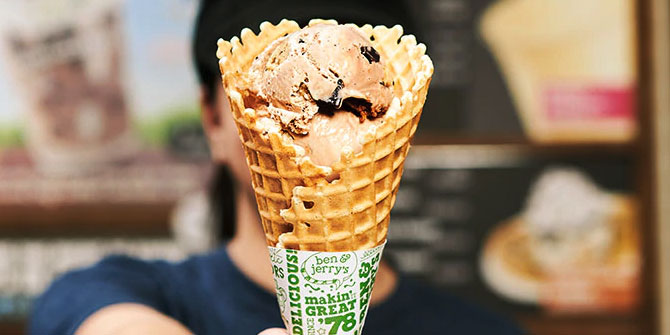 What's better than a Ben & Jerry's? Four Ben & Jerry's! No matter what end of Virginia Beach you're on, they are there to cool down the day! Whether you prefer chunks or swirls, there are so many ways to enjoy. Starting with good old chocolate to award-winning vanilla, you can venture into ice cream euphoria with more than 60 flavors to satisfy your indulgence of creamy goodness. Try a lick of a Top Ten favorite like salted caramel core or Americone Dream. Or, get a scoop of the No. 1 Ben & Jerry's flavor – Half Baked filled with gooey cookie dough chunks.
Soft serve, hand-dipped, milkshakes, sundaes and smoothies are all on the menu at Ben & Jerry's. Along with a slate of non-dairy flavor creations made with almond milk, 100% certified vegan, and boldly loaded with chunks and swirls. You'll get Ben & Jerry's euphoria in every bite of caramel almond brittle or coconut seven layer bar or coffee caramel fudge.
How about tickling your nutritional fancy while amazing your taste buds with Ben & Jerry's delicious frozen yogurt pints? Keep in mind, Cherry Garcia®, Half Baked®, and Phish Food® yogurt flavors rank highly with yogurt lovers.
Remember eating your favorite cereal while watching Saturday morning cartoons in your PJs? Ben & Jerry's has turned that nostalgic feeling into an ice cream! Cereal Splashback offers three cereal milk ice cream flavors – Frozen Flakes, Cocoa Loco and Frozen Fruities – available only at a local Scoop Shop.
And, if a celebration is in order, let Ben & Jerry's provide the cake. If you don't want just any old cake, get a custom ice cream cake that is as unique in flavor and design as your celebration. Ice cream cakes are perfect for office parties, family celebrations and, of course, birthdays.
By scoop, quart, slice, pint or cup, Ben & Jerry's makes "the best possible ice cream in the best possible way."