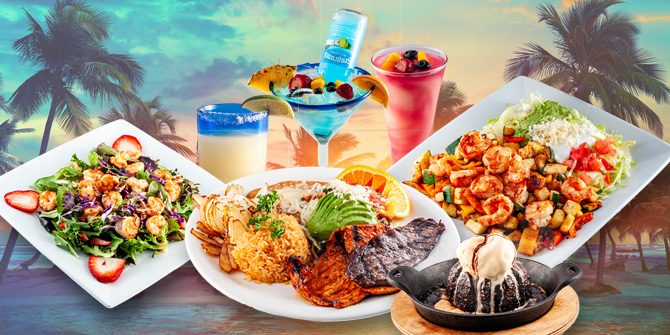 Conveniently located at the Brenneman Farm Shopping Center, just a few miles from the beautiful coast of Virginia. Las Palmas brings with every bite the romance of the mexican flavor. Serving mexican cooking that reflects the culture, the people and years of experience in every recipe and is reminiscent of many of our childhood experiences around the dinner table.
Be sure to try one of our best sellers… The Burrito California! Grilled chicken or beef burrito mixed with green peppers, onions, tomatoes and cheese dip. Topped with Pico de Gallo Served with rice and beans and guacamole, sliced tomatoes and sour cream. Delightful to the sight, rich and mouthful!! You come hungry, but leave us with smile!
Get familiar with our variety of special deals every day, every week, from 2pm – 8pm. We provide you with exquisite drinks, where your imagination is the limit. Enjoy an extensive selection of alcoholic and non-alcoholic choices. Welcome to Margarita House, ask for your favorite, from Lime, Texas Margaritas and more!
Tropicolada "Ask for it, you will love it" Totally Tropical Piña Colada, banana, mango, & Calico Jack coconut rum.
Monday to Thursdays Mexican Beer only $3.00
Las Palmas Mexican Restaurant & Cantina is located at the following locations:
620 First Colonial Rd. • 757-904-3830
1009 Lynnhaven Mall Loop • 757-463-5100
4540 Princess Anne Rd. • 757-467-1105
2249 Upton Dr. • 757-335-0022