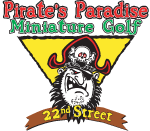 $2 Off per Game
Good daily before 6pm With This Coupon
Not valid with any other offer or discount.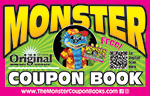 MCB/2022 Online
Pirate's Paradise Miniature Golf is located at the
Corner of Pacific Avenue & 22nd Street • 757.422.9822
---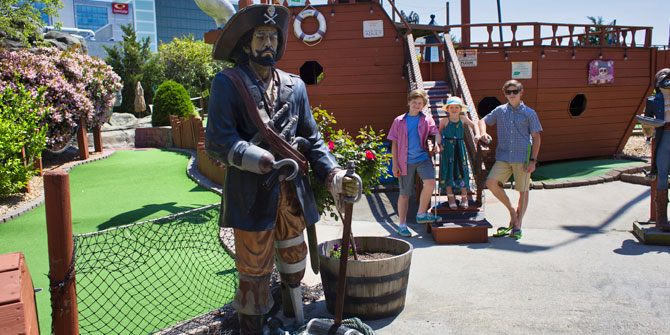 Pirate's Paradise Miniature Golf is in the heart of Virginia Beach. Since 2001, it's been family-friendly entertainment owned and operated by a local family. Pirate's Paradise, offers an unequaled miniature golf experience! The adventures and legends of infamous pirates come to life in its challenging, yet fun, theme course settings. Putt your way through caves, over footbridges, and under cascading waterfalls, all amidst a fun-filled atmosphere of flowing water, extraordinary landscaping, and enchanting pirate lore.
There are many flowering plants, waterfalls and ponds that offer great photo opportunities for memories to share and keep. And, there's free replays until 6 p.m. daily.
"Awesome course … What a great round of 18 holes. The greens are in great shape and are generally long greens which makes for a challenge. Area seemed pretty clean and they even have a pirate ship for kids to play on. They offer free replays which is nice." TripAdvisor review.
A snack bar with drinks, hot dogs, ice cream, funnel cakes and more are all available at Pirate's Paradise.
Birthday parties on the pirate ship, corporate parties, fundraisers, team building tournaments are all welcomed. All birthday party packages include two hours of private fun aboard the pirate ship, unlimited golf, a free game pass to each of the party guests, pirate hats and eye patches and a choice of pizza or hot dogs.
Open March 1 through November weather providing. Hours may vary in June-July-August but usually are from 9 a.m. to 1 a.m. Pirate's Paradise is located at the corner of Pacific Avenue and 22nd Street in Virginia Beach.
Considered the best family value at the beach, Pirate's Paradise aims to provide a wholesome, quality, family oriented entertainment option that promises a fun and unique experience for buccaneers and lasses aged from 3 years to 93 years!